---
Emerald green Volkswagen Golf
2017-03-21
---
If you happen to drive a Volkswagen, sooner or later the Stance culture will find you. From there – it all depends on you. You either take the opportunity and flow with it, progressing along the way, or you decline it, and are left in this gray world.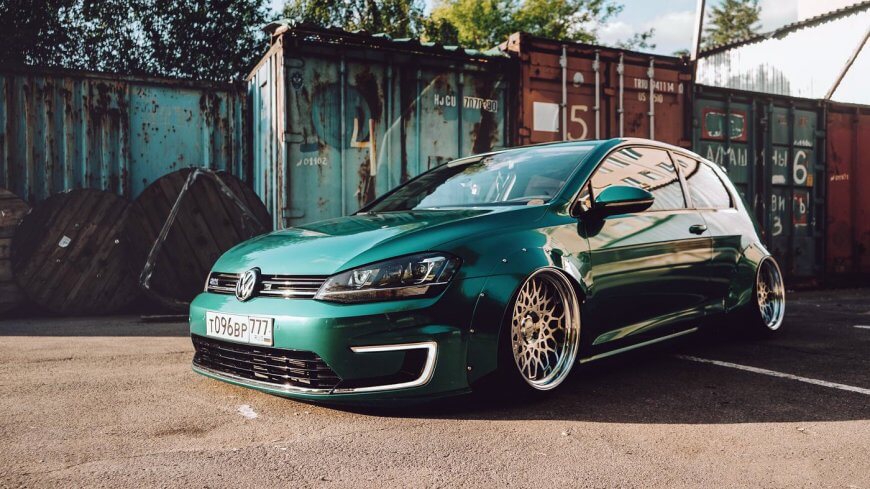 Today we are going to talk with Michael, the proud owner of this MK7 Volkswagen Golf. After accomplishing everything he could with his then owned Volkswagen Polo, he decided that to progress further - he needed a different platform. With that in mind the Polo was sold and a 3-door MK7 Golf was bought. Right from the start Michael knew he wanted it to be as unique as possible, and to achieve that, every possible styling element was going to get used.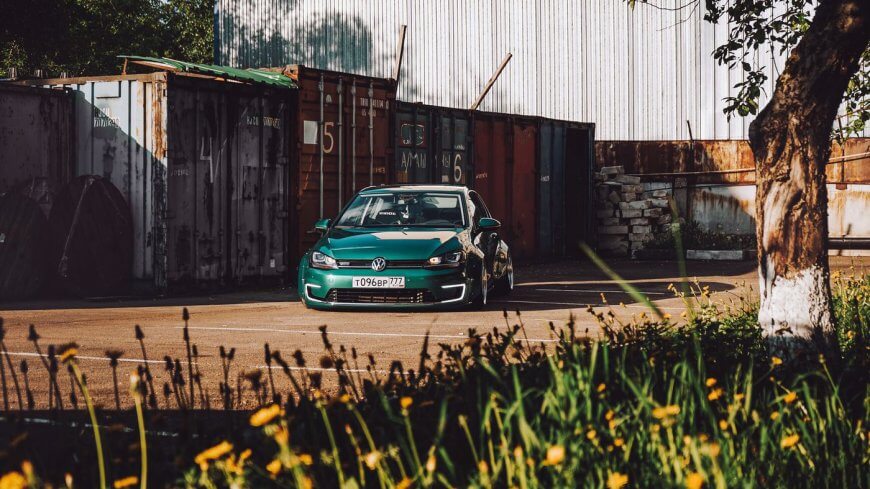 First things first, internet was searched for currently accomplished projects, and not the usual lowered car wide wheels ones, but the ones that were a serious competition. After setting on the basic ideas, Michael started to change his car. Of course, a lot of the initial ideas were scrapped along the way, but better and more aggressive solutions made the car even more unique.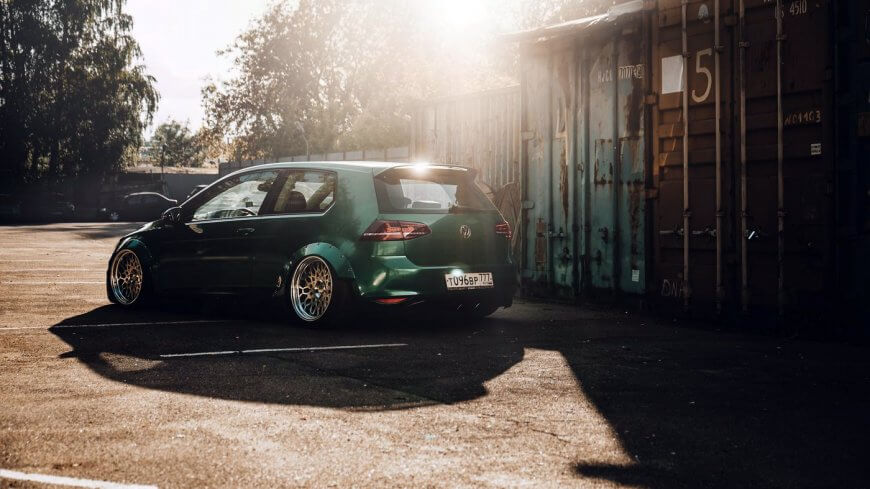 The transformation started with the choice of wheels and a custom air ride setup. A lot of wheels were test fitted, the honorable mentions list includes names such as BBS, Fabolous, XXR, Rotiform and Avant Garde. But they were not the ones, the right set that made the car look the way it is now, is a set of Work Seeker CX wheels in 10J up front and 10.5J in the rear.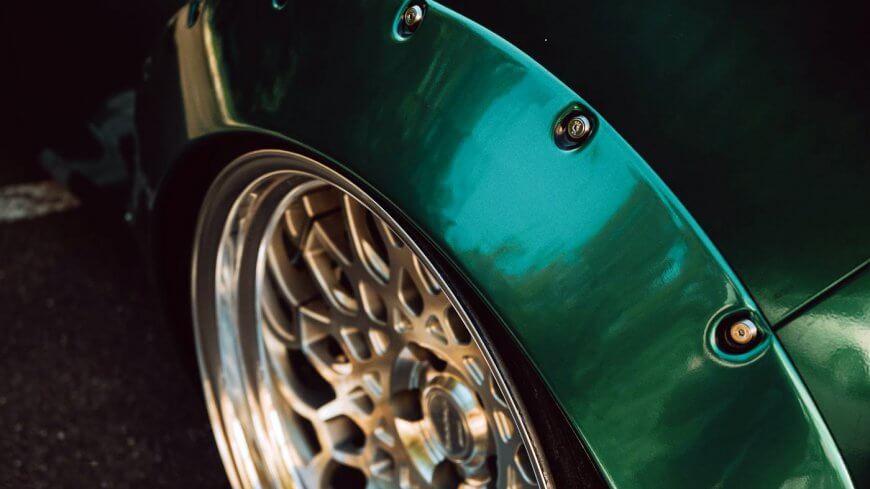 When it comes to the interior and exterior of the car – this is where most of modifications are visible. Initial white color of the car did not bring any attention to it, so with the help of Avery vinyl wrap, it was changed to emerald green. The seats were swapped out for a set of Bride Cuga buckets, and all of the interior plastic was wrapped in the same body colored vinyl. The rear of the car was modified with a dual exit exhaust setup, and an original diffuser to make it fit right.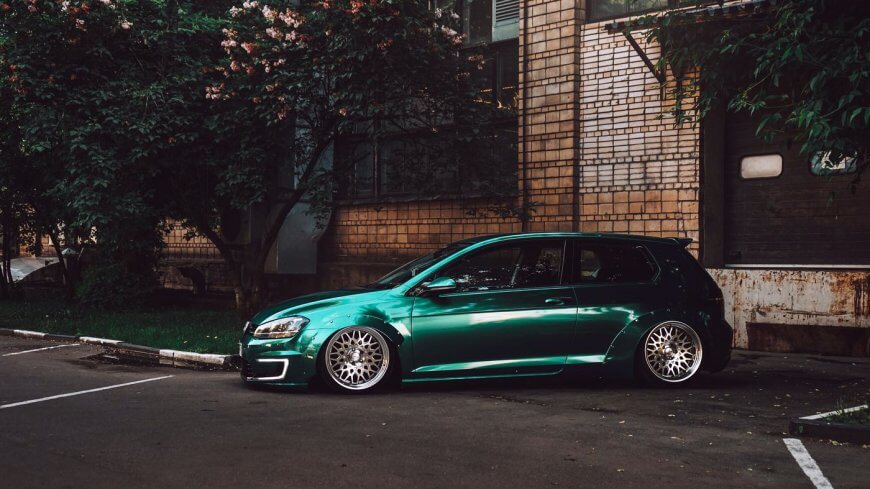 Finishing touches were a set of front grille and bumper from an electric version – Volkswagen Golf GTE. Rear lights were also replaced for the better ones from a Golf R model.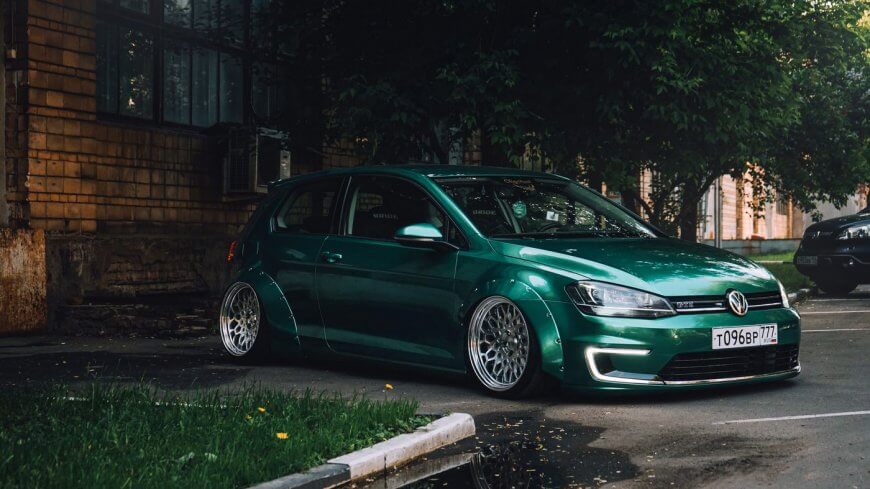 Next big step in this build were the wide overfenders from Clinched, they made the car even more aggressive. Overall widening was done by 7cm on each side. Additionally, side skirts and splitter from KR Aero and a spoiler from MV Tuning were added.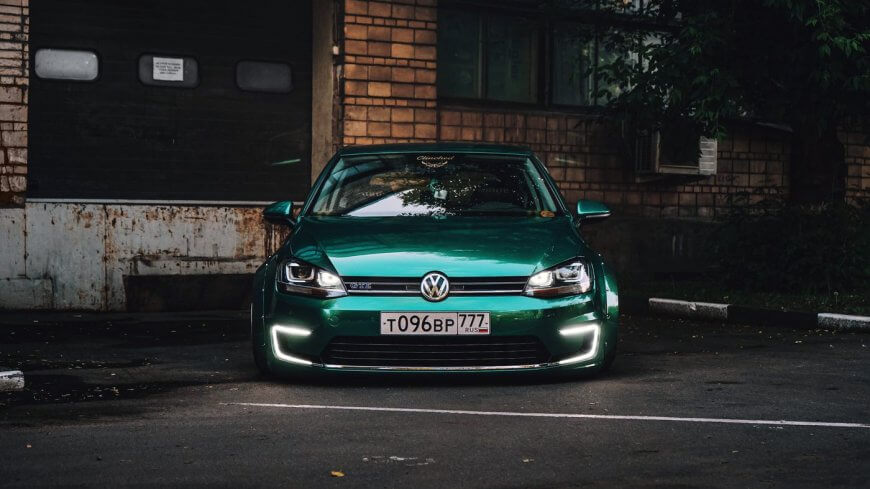 As for ride quality – this is where Airlift Autopilot V2 is in charge, with the help of Slam struts. For more camber in the rear – Megan Racing camber arms were sourced and fitted.
Everything we do with our cars can be loved, for the idea, and hated – for the process of bringing it to life. But it all comes down to pleasure of seing it all assembled and flowing down the streets.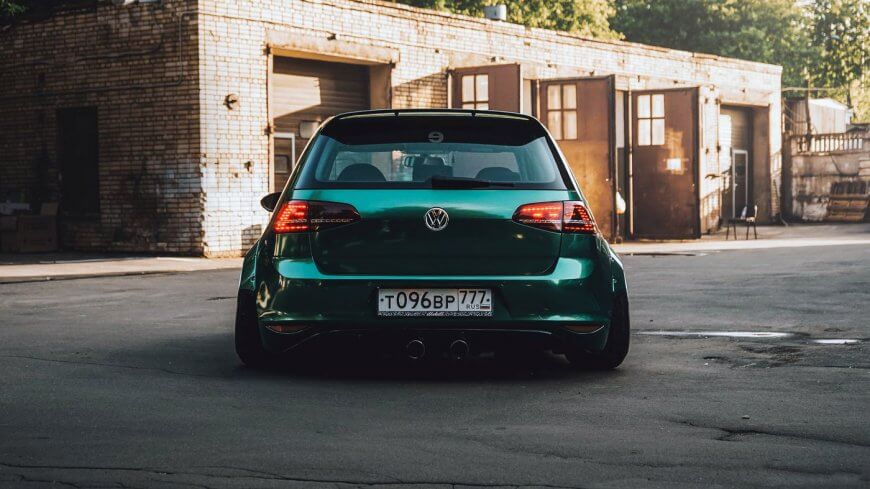 Spec list
Volkswagen Golf MK7
Suspension
Airlift Performance air ride setup
Autopilot v2 management
Airlift Slam sturts
DGR front camber arms
Megan Racing rear camber arms
Wheels
Work Seeker CX 10J front and 10.5J rear wheels
Yokohama Parada Spec-2 215/35 up front and 225/35 rear tyres
Exterior
KRaero skirts and splitter
Clinched overfenders
MV Tuning spoiler
Front bumer and grille from the GTE model
Golf R rear lights
Avery Dark Green Pearlecsce vinyl wrap
Iterior
Vinyl wrap on plastic pieces
Bride Cuga bucket seats
Exhaust
VW diffuser with Remus backbox
Resonator delete